Pick randomly and start votes with Finn
Use Finn to randomly pick and start votes on lists you create. Team members, lunch destinations, or a random number - you name it!
Add Finn to Slack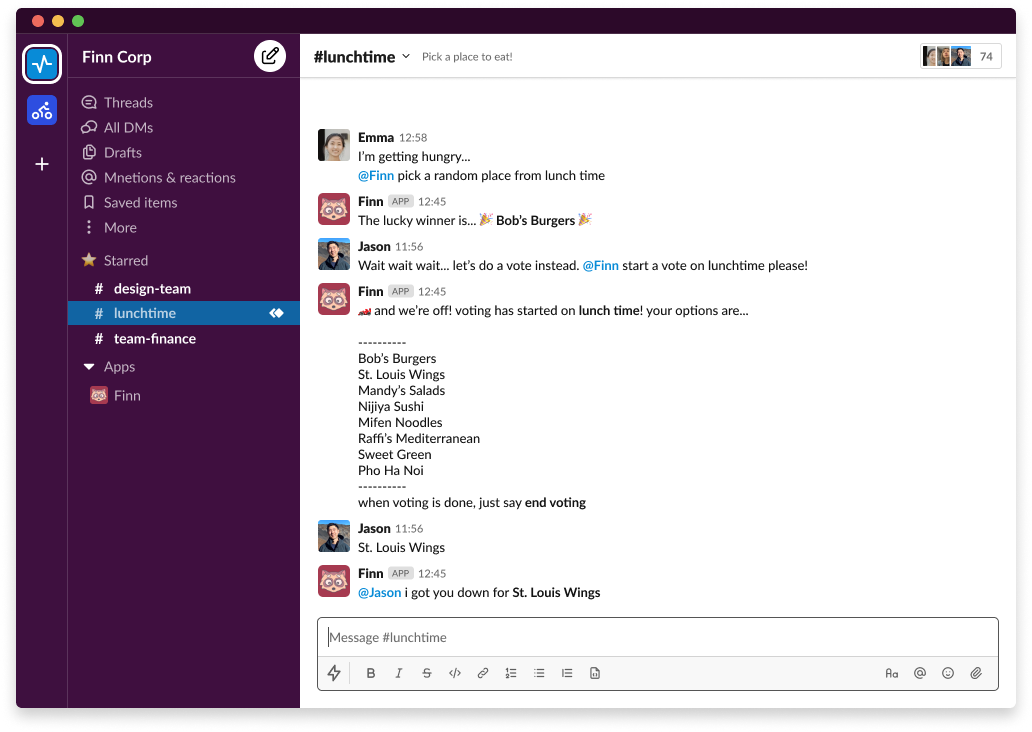 Finn is flexible. Need some ideas?
You can create a list of anything. @Mentions, 😀 emojis, links, or just plain text.
🍔 Lunch

Start a vote on where to have your next team lunch. Or let Finn pick randomly for you.

👩‍💻 Team members

Pick who goes first or has to take notes at your next standup.

🔢 Numbers

Your own custom random number generator.

🤝🏽 Icebreaker questions

Onboard new team members and kick off your happy hour.

💡 Product features

Voting or picking randomly is probably not the best way to manage product, but we're not stopping you.

🛠️ Office chores

Clearing out the fridge, watering the plants, restocking the Red Bulls...
Frequently asked questions
To learn how to use Finn, just talk to him or look through our simple help guide. Still have questions? Send us an email.
How do I use Finn?

Finn is simple. There's only a few commands needed to create lists, start votes, and pick randomly. If you already installed Finn, ask him to help me out. Otherwise, take a look at our tutorial.

How much does it cost?

Finn is free to use for now and will always have a generous free tier. I built Finn on AWS, so each month there's some overhead depending on usage. There's a couple usage limits around list size since I'm paying out of pocket for now.

How did you build Finn?

Finn is pretty simple. It's a severless app running on AWS Lambda and your data is stored in RDS. I've been meaning to open-source the app code on GitHub, but I have not had the time. The website code is on Github, it's a static site built with NextJS and Tailwind.

Does anyone use this thing?

Last I checked there are a few hundred Slack teams using Finn. It's best for a smaller team. Lists can get pretty unmanageable once you have too many of them.

Why did you make Finn?

At the time, there wasn't an obvious way to easily pick a random place to have lunch. Plus, I like building products to solve my own problems and learning new tech.

Who did all the artwork?

Inkword! Check out her Tumblr.